Last week I was sooo busy, time flew by faster than I could realise. I had a midterm and a Japanese speaking test that I had to prepare for but on top of that I was also busy preparing for GAGA House Ball. At ICU each dorm has the opportunity of hosting a 'ball' once a year, except 2nd Men's Dorm who I've heard are allowed to host two(?). We decided on our theme for the ball in early December, just before breaking up for Christmas; the choices were Lady Gaga or Clowns...needless to say Lady Gaga was the victor. I signed myself up for the decoration team and in the midst of all the Christmas excitement, the ball was soon forgotten about. Unfortunately this meant that once everyone was back at ICU at the start of January we only had two short weeks to prepare...so yeah that's where I've been, neglecting my blog and making decorations and, of course, my costume.
I finished my costume on Wednesday, it only took me around three hours which I was pretty pleased about because I haven't sewn in years. This was my inspiration, the outfit from the end of Lady GaGa's Telephone video...
I made a few modifications (like wearing pants!!) as I like to think of myself as (just a little bit lol) more modest than Lady Gaga, and this was the end result. It was soo nerve racking wearing something like this; obviously I look stupid here on my own but in context my outfit wasn't so crazy, a lot of people came to the party with coke cans in their hair, or wearing giant origami planes. So although I felt kinda stupid at first, it wasn't that bad once people arrived.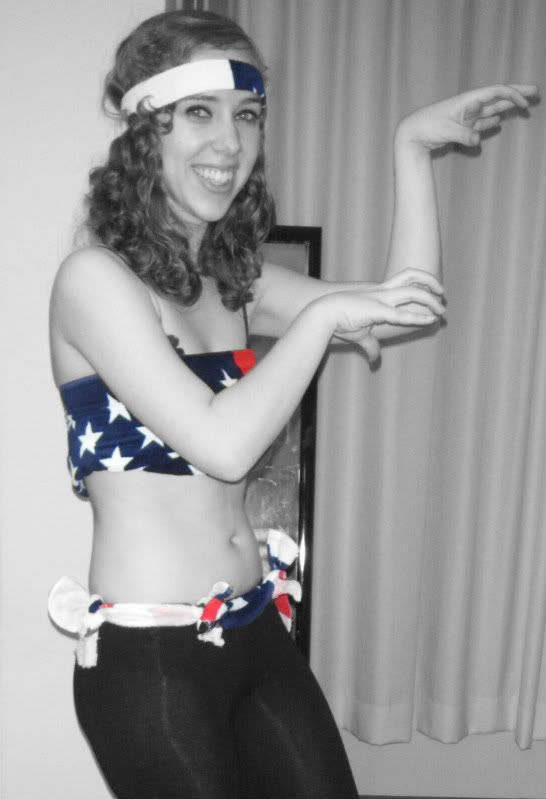 The ball was really successful, thanks to the advertising team we have over double the amount of people than last year (about 300 in total) and although I helped worked the cloakroom for a little while, and people kept asking me if I was American and then, upon hearing I wasn't, proceeded to ask me if I hated England, it was a really fun night.
I have already received my grades for both the exams that I sat last week. I got a B in both, which I am happy about. I would always love to get an A but nobody can argue with a B.
I began running a few weeks ago so this week I'm looking to continue my running and catch up with school work before I have to buckle down...there's already only 4 weeks of this term left!!